WATER RATES / INFORMATION
---
Page Contents:
Billing Rates, City Info, FYI, Web Page Links
__________________________________________________

Water Usage Rates:
0 to 1,000 Gallons $20.00 (base rate)
All over 1,000 will be $0.38 per 100 gallons
Safe Water Act $0.40 per Month
Restored Service Fee $50.00
Tax Rate 8.38 % Penalty 10 % Due Date 15 th


Sidney City Council Meetings:
6:00 pm - 1st. Monday of each Month
Location: Community Center


City Officials:
Mayor - Nathan Bloch, Recorder/treasurer - Chrysti Turner
Fire Chief - Joe Blackburn, Water Commissioner - David Croft


Council Members:
Colby Martin, Wendell Turner, Vanessa Stigall,
Elizabeth Smith & Donald Perkey



For Your Information:



Unfortunately, small leaks do not always come to the surface. Either they are absorbed into the soil,
or they flow in to sewer or septic systems, where their flow may not be noticed. As can been seen from
the table below, a small leak can pass a surprisingly large amount of water over a period of time.
A few small leaks can add up to millions of gallons of wasted water. Water loss as a result of a leak
with a ¼" diameter can mean a loss of 14,952 gallons per day.

A forgotten water hose, even for a short period of time, could easily increase your water consumption
over that of a monthly average. Toilet tank mechanism malfunctions are a common occurrence, and in a
short time would use a significant amount of water.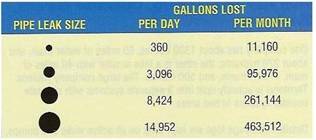 Web Page Links:
Custom House Plans National Rural Water Assoc.
---
HOME PAGE HISTORY MONITORING RESULTS

____________________________________________________________
In accordance with Federal law and U.S. Department of Agriculture policy,
this institution is prohibited from discriminating on the basis of race, color,
national origin, age, disability, religion, sex and familial status. (Not all
prohibited bases apply to all programs).
To file a complaint of discrimination, write USDA, Director, Office of Civil
Rights, 1400 Independence Avenue, S.W., Washington, D.C. 20250-9410
or call 800-795-3272 (voice) or 202-720-6382 (TDD).
___________________________________________________________